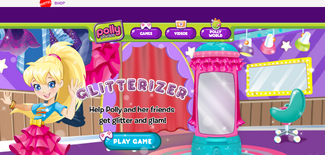 The Polly Pocket website is a site where you can play games and watch videos related to Polly Pocket. The first archived website from the Way Back Machine (which is a website that enables you to visit websites from the past that have been archived) dates back to 2000. The site has gone through changes over the years. In 2006 and 2007 with the Way back machine Polly herself welcomes you to the website saying "Welcome to Polly Pocket.com. We can hit the mall, decorate my room, hang out at Polly World, and so much more. Come on in."
Working page: https://web.archive.org/web/20070701035337/http://pollypocket.everythinggirl.com/home.aspx But each location doesn't work. Use this to get to games: https://web.archive.org/web/sitemap/pollypocket.everythinggirl.com
French website's links like mall and park all work if you click on them, it is less broken the US site. https://web.archive.org/web/20100428092008/http://fr.pollypocket.com/home.aspx If it is stuck on infinite loading, right-click inside the game and select play or forward.
Some of the games on the site still work
Gallery of the site over the years (Most of them used with the Wayback Machine)
[
edit
|
edit source
]
Community content is available under
CC-BY-SA
unless otherwise noted.