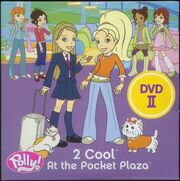 Polly Pocket 2: Cool at the Pocket Plaza
is the second Polly Pocket movie. It was released direct-to-DVD in 2005.
Mr. Pocket opens a new hotel, the Pocket Plaza, also known as the Plaza Hotel in New York City. There is a new English friend, Pia Pocket, an identical cousin of Polly, who dreams of being a great rock star. Polly's father is held up at an airport in Iceland and Polly now has to present the hotel opening. Meanwhile, Polly's nemesis, Beth is coming up with ways to humiliate Polly and her band in the show at the hotel opening.