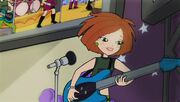 Lea is one of the main characters in the series. She is voiced by Erin Fitzgerald.
Personality
Edit
Lea is an animal lover, sporty and giggly. She is described to be athletic and is an athlete who enjoys many sports, like skiing and soccer. She is very compassionate towards others and is sensitive. She has a very girly sense of style and easily reflects it. Lea is of characters the new series September 2004. She is voiced by Natalie Walters
Appearance
Edit
Lea has bright orange hair and light green eyes in doll form and later red hair and blue eyes. She is tan and has freckles. She's noticeably taller than the rest of her friends in the Polly Pocket movie. In Pollyville, her eyes change to blue. After the first few Pollyville episodes, she was removed from the webisode series.
In the Splashin' Fashion Pool Party set, she has braided red hair with purple highlights, which turn blue, and wears a two-piece blue bathing suit with yellow trimming and a single strap.
In the Polly Pocket movie, her hair is tied into two.
As a mermaid, Lea's hair is waist-length and is held down with an blue headband. She wears a deep purple bikini top and a cover-up with pink and white stripes. As a mermaid, her tail is the same deep purple as her top and has three pink seastars on it, with a fourth one in a random position on her top. When she goes underwater, her headband and seastars turn teal green (usually though, only her seastars turn teal green).