Crissy is one of the main characters in the series and is Lila's best friend. She is voiced by Nicole Bouma (2003-2006) and Wendee Lee (2011-2015).
Crissy is a stylish and outspoken girl who dislikes when her looks are messed up. She is also an aspiring fashion designer who is always full of many artistic, fashionable ideas and she'd love to be a rockstar. She has many hobbies, such as rollerskating, snowboarding, practicing sports, shopping, singing, and listening to music. Her fashion style is fun and cool with Arty. She is scared of heights in Crazy Race. However, in PollyWorld, she is a very shy, modest, and cute girl.
Originally, Crissy had short curly brown hair, fair skin, and blue eyes. However, from 2010 to the present, her appearance changed. Now, Crissy has long straight black hair with magenta highlights and brown eyes. Her skin tone is olive.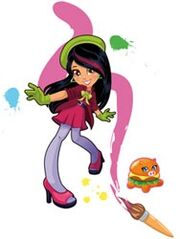 As a mermaid, Crissy's hair is now worn in a ponytail and is held together with a lavender headband and scrunchie. She wears a teal green single strap bikini top and a pink skirt. The top's strap keeps switching sides. As a mermaid, her tail is the same teal green as her top and has three yellow flowers on it, with two more in the strap areas on her top. The yellow flowers turn pink underwater.
Her character is pretty much different than the Polly Pocket Movie (originally). In this case, she is cool. But in the movie, she is more of a modest person.
Her look is different than in the movie. In the movie, she has more of a curly hairstyle and her hair color is brown. In this case, she has more of a straight hairstyle
It's rumored that Crissy was originally called Ana
Community content is available under
CC-BY-SA
unless otherwise noted.